"The use of color through light is one of the most important and impactful elements in the space"

Vibras Lab is an office designed for J Balvin´s company, and as such, aimed to reflect the dynamic, technological and flexible needs the music industry entails. The idea behind calling the space a lab is intended to provide both clients and employees a space for creation and creativity.
The space is divided into three main areas; the entrance reception, the open office area, and three private offices connected by one large meeting room.
VIBRASLAB
Categoría: Oficinas
Año: 2020
Ubicación: Medellín - Colombia
The main entrance reception is meant to be used as a leisure and meeting area for first comers. The space needed to enable relaxed and informal communication, which is why both a ping pong table and a modular seating area with a coffee station were proposed. Furniture selection was kept fun and playful, without losing a sense of comfort and utility for more serious communication.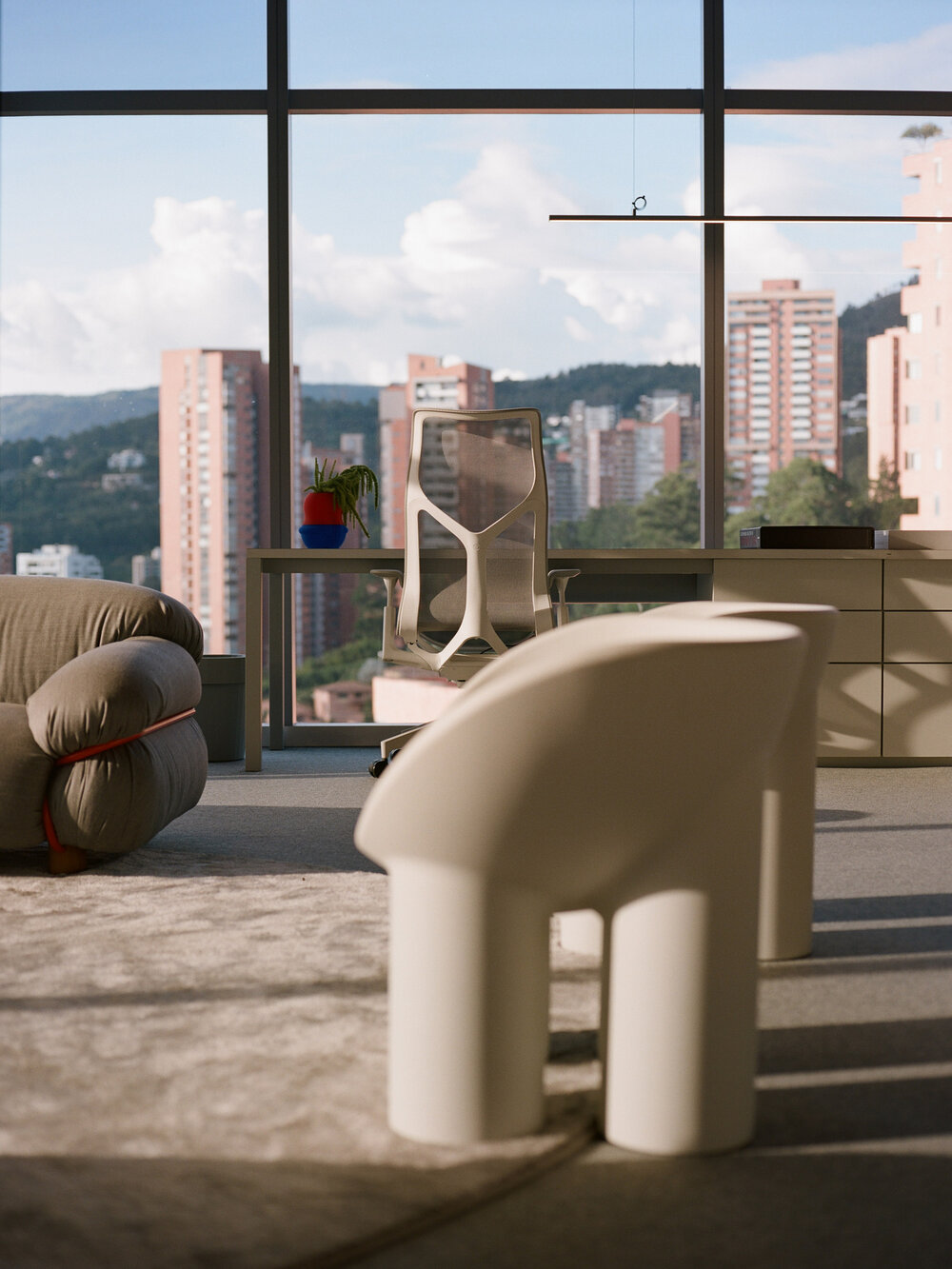 The open office area has several common large working tables, as well as an open (auxiliary) kitchen and two small meeting rooms. Collaboration is one of the most important ethos for the company, and as such, the space needed to reflect a sense of transparency and openness.
The main working stations mimic meeting room tables in order to enhance and promote teamwork, and the auxiliary spaces help provide different types of working gynamics to adapt to everyday specific needs.
34
"Through its materiality, the space creates a homogeneous, neutral canvas meant to blend into the background in terms of color"

The juxtaposition of stainless steel, soft carpeting throughout the floors, and rough wall coverings in the exposed concrete, provided textures that gave the space depth and richness in order to be experienced sensorially.
The use of color through light is one of the most important and impactful elements in the space. Color needed to be integrated in a way that would not feel too heavy for everyday use, but would have an important role in the way the space was inhabited throughout the day. Because of the nature of work that is done, its ambience needs to be able to adapt to different types of clients, meetings and gatherings. This element helped create scenes that would respond to different moods as well as work hours.
Color helps create a fluid space that would not be subjected to a specific style, thus, it´s variability is capable of altering the individuals experience and perception at a conscious and unconscious level. This created a platform for people to connect to its surroundings on an emotional level.