CASA TRAZO
Categoría: Residencial
Año: 2022
Ubicación: Medellín - Colombia
Lightness: Architecture for the landcape

Located on El alto dell Escobero, Casa Trazo was designed with the objective of creating an architectural element focused on the contemplation of the surroundings. The view from the intervened lot narrows the relationship between the natural landscape and the observer. The house is designed from open circuits or routes (visually exposed) that assemble the access, service area, and living module to the social area, where the house opens to the exterior and expands towards the terrace.
Casa Trazo, in addition to its routes and visual openings, has its origin in the need to create a little protagonist element. Through the coexistence of raw materials, flat and pale colors, organic lines, obtuse angles, and linear surfaces, the impact of architecture on the pre-existing landscape is minimized. From the outside, the house disappears among thin surfaces (floor and roofs) and is perceived as a light, almost floating element. On the other hand, the roofs float on rigid elements and, contained between metal profiles, vary to provide natural light to the interior spaces, enveloping the inhabitant in an exterior sensation, even when in covered spaces.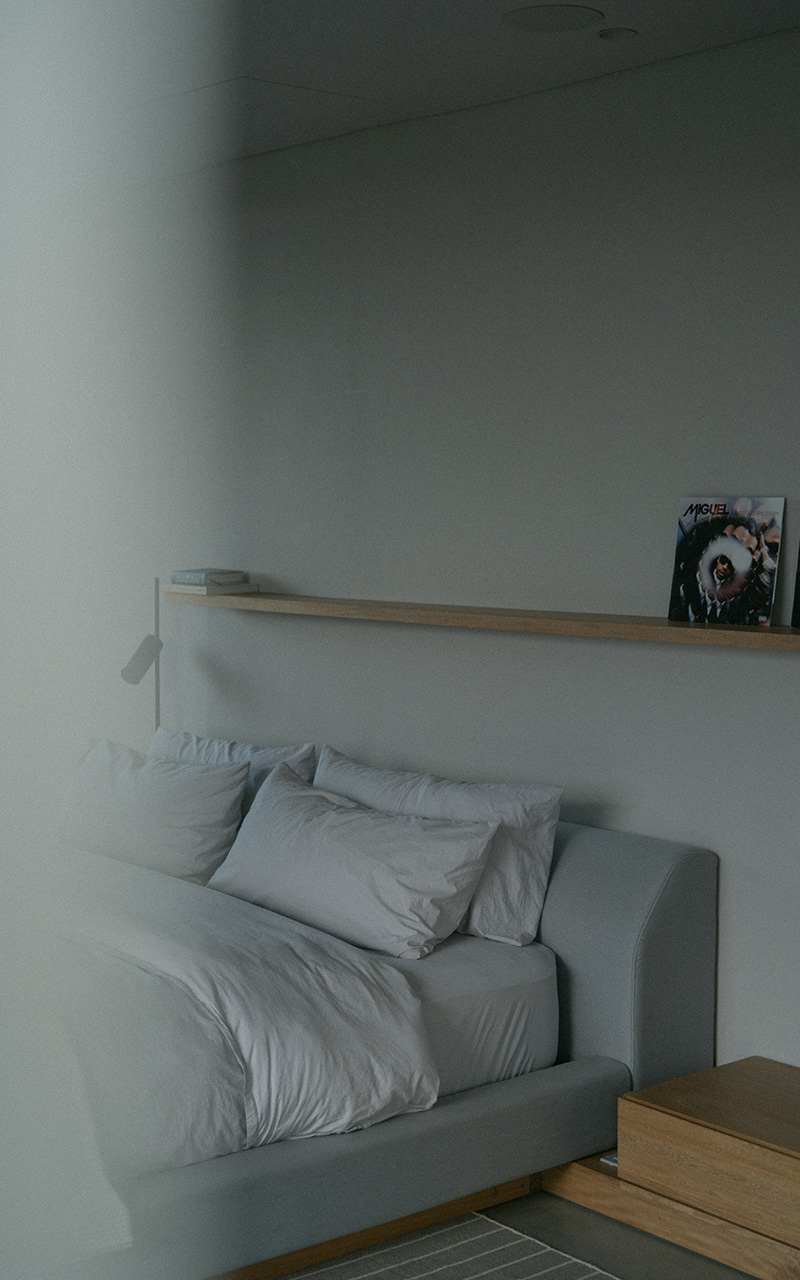 The materiality of the house seeks to unify the spaces, as the gray envelope, which varies between concrete and plaster, is perceived as continuous and binds the volume of the rooms with the social volume in terms of language. Similarly, the wood of the ceiling is replicated in the terrace floor, blurring the boundaries between exterior and interior and creating a game of mirrored symmetries.
Wood is used as a beginning and end and contributes to the warmth of the spaces. The metal, in green to disappear into its context, works as frames; elements that contain the architecture to create large cantilevers and a feeling of lightness. The concrete, on the other hand, grounds the house on the terrain, gives it weight, and hides it behind a curved wall that accompanies the access.
Finally, the house is understood from its atmospheres and details. Through the meticulous solution of each piece of furniture, each lighting element, and each visual opening, the scale of the landscape (initially inaccessible) is transformed into an instance close to human scale. Through the details of the house, it acquires soul and becomes a series of habitable, warm spaces.